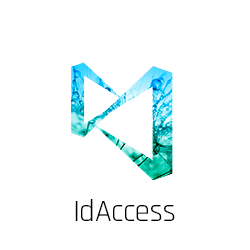 Security Access Control
Security installations with the highest protection ratings
Effective security access control to all spaces, real-time monitoring of all access activity in the company.

New Software, Greater Scope
Effective Control
With an interface structure based on the latest innovative information management techniques, it is now easy to control security access in your organization. Easy layout of tools, more attractive image of the software, the IdAccess application will enhance security and protection conditions of people and goods inside your premises.
IdAccess Plataforma Idonicsys EN

New Platform
IDONIC

SYS
A Powerful Software Platform for Your Applications
A platform that brings together the most diverse solutions in the areas of management, control and security.

New Tools
New analysis of results. New statistical analysis. Automatic updates. Automatic licensing.

A Practical and Affordable Structure
Management of different areas of the company on the same platform.
Server-based platform and networking.

Greater Integration
Wide integration with different terminals, turnstiles and full-height turnstiles.

Focused on the Protection of People and Goods
Increase Security, Promote Stability, Improve Profitability!
Acessos Principais Características EN
Human Capital Management
An Effective Control, an Organized Company
Having complete control of the organization is now easier.
To meet the requirements of maintaining security inside your premises, there are equipment and technologies that fit the specific needs of each business.
See entry and exit movements, change access plans or send alerts to the user with real-time monitoring of all activity on the premises (entry, exit and transition between zones).

Anti-Passback Control
Exit is only possible if there is entry access and vice versa. It reduces access attempts by simultaneous entries ("collage") with other users and gives credibility to attendance checks by zone or inside the premises, in case emergency evacuation is required.

Creating Access Zones and Profiles
Creation of zones and sub-zones with different access permissions, with the possibility of limitation of access by zones. Access Profiles allow the existence of different levels of permission, in the query or change of data, defined by positions, functionalities, departments and work groups.

Attendance and Absence Control
Being an employee or a guest to visit the organization, entry and exit are controlled.
If the person in question does not have authorized access to the site, the terminal will not accept entry validation and therefore will not open the door/gate.
SECURITY ACCESS MANAGEMENT WITH TURNSTILES
More Safety, Less Risk!
Acessos Características 01 EN
Visitor Access Management
Autonomous System for Controlling the Access of External Users
Ensure that only wanted people enter your premises, using readers placed at strategic entrances and exits, with definition of access profiles by zone. All data generated can be consulted for the purpose of security access control, attendance and emergency plans.

Visitor Management
The Visitor Management System allows you to view in real time where all the people identified at the reception are, when they entered and when they left. It is possible to assign access authorization profiles, to predefined zones or to the visited department.

External Entities
Possibility to program accesses of external entities with a need for temporary circulation. It can work with ID card or by biometrics. Useful for security access control of suppliers or service providers.
Acessos Características 02 EN
---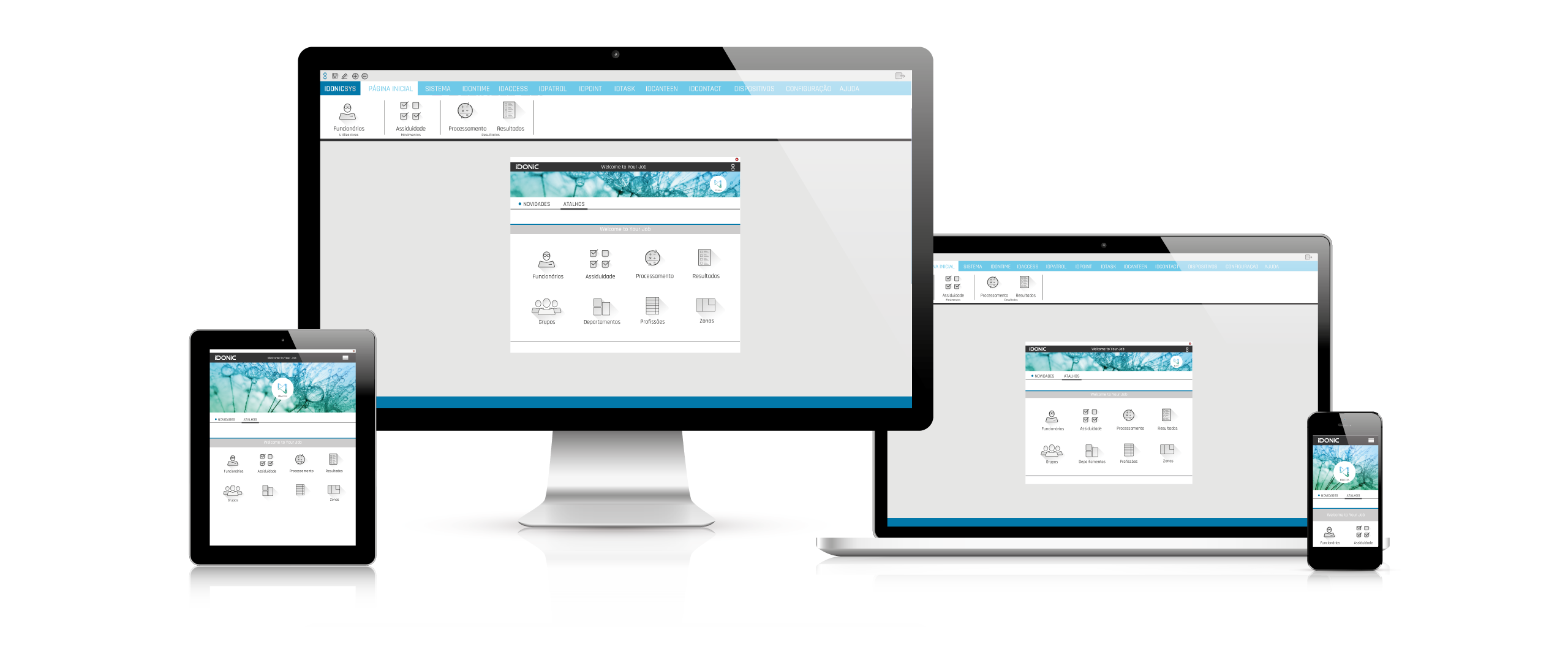 Total Management of your Space
Available in the Desktop and WEB versions, the IdAccess application allows full control of access to your premises, and monitoring and management can be done from any internal or external point. Operating on a client/server platform, it is possible that the management and monitoring are done by several users with different access profiles, and it is possible to assign functionalities of use of the solution, according to the responsibility of each one.
The IdAccess solution allows:
CONTROL
Accesses are allowed after authentication by biometrics (fingerprint and facial recognitiion), proximity card (RFID) and PIN code. Immediate collection of all those present and absent on the premises. Operation in Anti-Passback mode to prevent unregistered entries or exits.
CREATE
Access Profiles are generated with permission by location and time of access.
MONITOR
Online view of all the movements of all users.
MANAGE
Visitors and Users transit in the premises according to previously established plans. Automatic control plans for checks can be generated by the application as well as block at the time of their execution. Management of all access to car parks by authorized vehicles.
INTEGRATE
Direct connections with all other IDONICSYS solutions namely Time and Attendance Control, Guard Patrol and Services, Video Surveillance, Licence Plate Recognition, etc.
Acessos Características 03 EN
---
Combine the Modernity of our Solutions with the Security of your Organization.
Choose prevention by preventing strangers from trespassing your facility and the entry of individuals into private areas, reducing the risk of theft. Possibility of Access Monitoring in an integrated way with Video Surveillance Systems (CCTV).
Acessos Software Hardware EN
---

Software and Hardware for Secure and Automatic Access
Innovation in Terminals
There is a vast list of options for answering every situation: advanced technology terminals, turnstiles that check attendance, door readers or access full-height turnstiles.

Standalone Terminals
As the name implies, this type of terminal operates autonomously. When there is a need for access control, and the permission of access cannot be given through centralized management, through the IdAccess application, the solution involves the implementation of this type of equipment.

Online Terminals
With a network operation, through TCP/IP connection to the IdAccess software, these terminals allow a unified management of the accesses, increasing the levels of security. With this configuration, it is possible to carry out anti-passback control, access by zone, monitoring of transit.
The Elegance of Safety
Registration by Fingerprint and Proximity Card
If the 6cm colour LCD screen and its small size do not convince you when it is said that it is innovative, then perhaps its ultra-thin design and premium finish, which only guarantee authorized accesses, will make you rethink how you idealize the security of your facilities.
With registration via fingerprint or MIFARE proximity card, and in black and white colours, this equipment completes any type of installation.
IDONIC AEON 246
Bio Terminal
Access and Attendance Control by Biometrics and Card
Created for Outdoors
Fingerprint and Proximity Card
If you like innovation and style, this hardware fits your image. With a revolutionary design, this terminal stands out for its functionalities, Fingerprint reading, IP65 that gives it the possibility of outdoor placement even with exposure to rain and rough environments, USB port and TCP/IP connection, for easy data transfer.
It also allows: Identification by Proximity Card (EM 125k, MIFARE, HID technology) and PIN Code
It also allows: Identification by Proximity Card (EM 125k, MIFARE, HID technology) and PIN Code
IDONIC AEON 221
Bio Terminal
Biometric Attendance and Access Control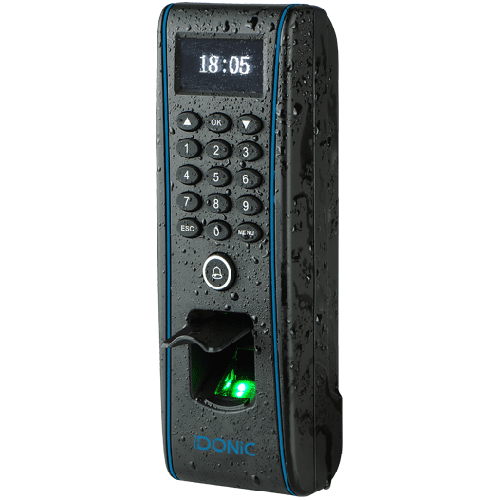 Modern and remarkable
Proximity Card and PIN Code
This innovative security access control system with a slim and stylish design integrates an RFID reader for proximity card verification.
It supports data input and output via Wiegand offering the flexibility of being able to be used in connection with an external reader, allowing the bilateral opening of access doors without the need for duplication of terminals.
Idonic AEON 109
Prox Terminal
RFID Access Control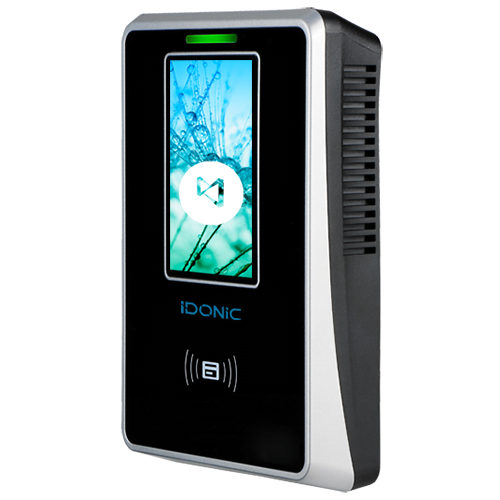 One System, Multiple Applications
Fingerprint and Proximity Card
IP Controller card for access control, with the possibility of connecting biometric readers or proximity cards. Models for 1, 2 or 4 relays are available, which allow access control to several doors/gates with a single control board and several readers. These controller cards allow you to manage other functions, such as turning on and off lights, alarms and trespassing detection panels, or integrated with locking devices, door magnetic latches, electric latches, electromagnetic tags, etc.
IDONIC AEON
Access Control Solution
Access Control by Biometrics, Card or PIN Code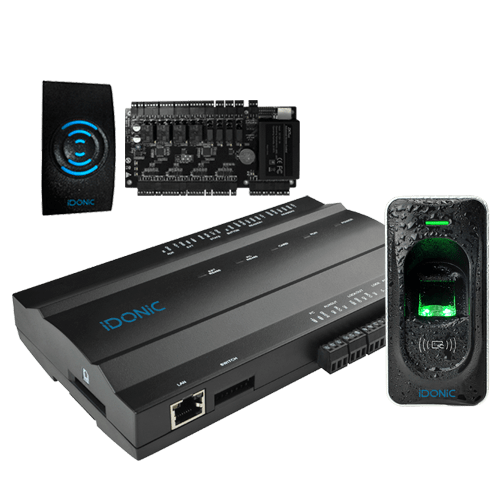 Technology that makes the Experience
Proximity Card Registration
A modern-looking lock that makes use of the latest technologies on the market, it does not only bring sophistication to its space, but also gives any user/visitor a more comfortable and practical access experience. Through the use of proximity cards, such as RFID and MIFARE, it offers a new and easier method of opening doors.
IDONIC AEON F102
Prox Terminal
Card Access Control
Compact and Resistant
Tripod Turnstile for Security Access Control
If you need a sturdy and compact turnstile, this is the model you are looking for. With a simple design, this turnstile was designed to withstand the most adverse environments. Standing out for the stability of its ground fixation, it can be used in situations of access control to sports venues, live shows, schools, public places, among other places where forced entry attempts are common.
It also allows: Identification by Proximity Card (EM 125k, MIFARE, HID technology), Biometrics and PIN Code
IDONIC TORN T101
Turnstile
Access Control with Tripod Turnstiles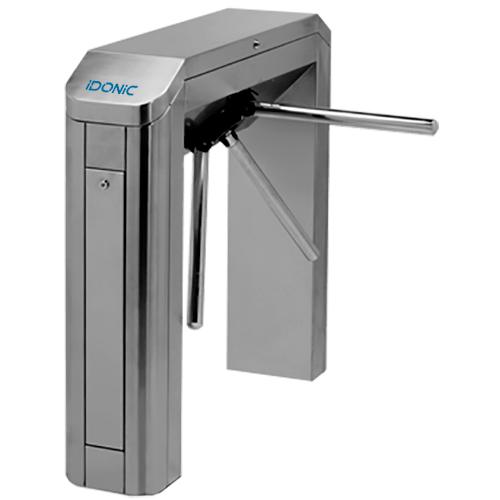 Passage Barrier
Turnstile – Free Passage Barrier
In addition to a set of turnstiles, it is imperative in many cases to ensure that the security access control system has safeguarded the possibility of controlling the transit of persons or users with reduced mobility, goods carriers, baby strollers, etc.
The IDONIC TORN ID5001IC Turnstile allows access control to all users who, due to special physical or transport conditions, need to access through a wide passageway.
It also allows: Reading of Proximity Card and PIN Code, Biometrics by Fingerprint or Facial Recognition.
IDONIC TORN B109
Goods Passage Barrier
Access Control with Turnstiles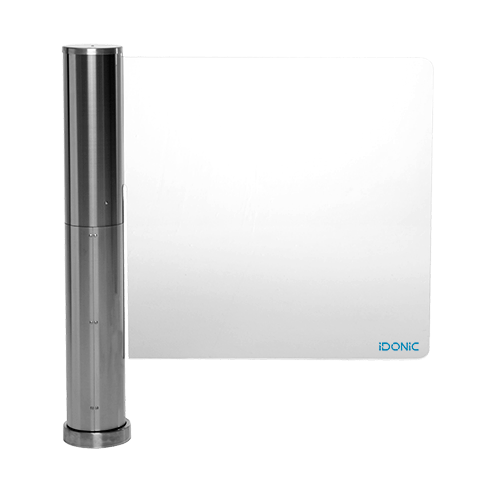 Charming Robustness
Access Control with Security Speedgate Turnstiles
With its Modern Design, this range of turnstiles combines the elegance of its lines with the robustness of its materials. Specially conceived for high standard reception areas, this turnstile also guarantees effective security access control, due to the difficulty of attempting fraudulent entry.
It also allows to attach the electronic reading of Proximity Card and PIN Code, Biometric Reading of Fingerprint and Facial Recognition.
IDONIC TORN V116
Turnstile
Access Control with Turnstiles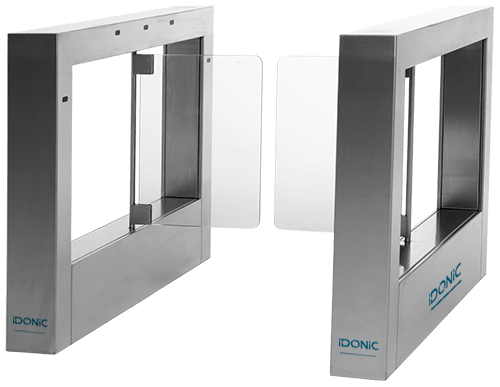 We Duplicate Capacity
Double Tripod Turnstile for Security Access Control
When the influx of users is high and we need to increase the traffic capacity, this turnstile model is the perfect choice. Increasing the entry and exit capacity to double, this model reduces the space occupied and the materials needed in its construction, making its price more appealing. With a simple but elegant design, this turnstile allows you to control access faster, without the need of implementing two items of equipment for the same effect.
It also allows: Identification by Proximity Card (EM 125k, MIFARE, HID technology), Biometrics and PIN Code
IDONIC TORN TD113
Turnstile
Access Control with Double Tripod Turnstile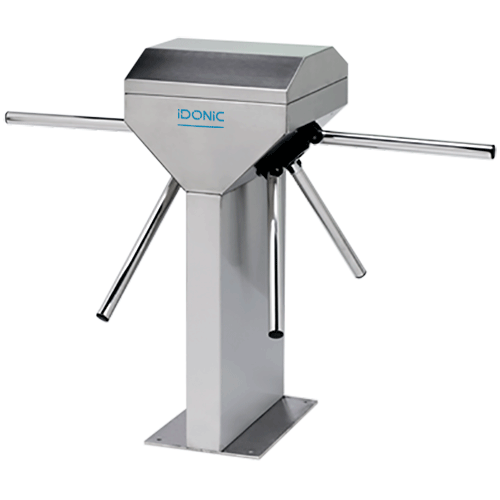 Maximum Control, Absolute Safety
This special Turnstile model, better known as Full-height turnstile, is especially useful when access control and security levels on the premises are placed at the top of the list. Due to the topology of this turnstile, potential escape attempts or unregistered entries are eliminated from the lower or upper part of more typical turnstiles. A Full-height turnstile allows you to create an insurmountable barrier, making security access control 100% safe and realistic and can be used in high security environments. Double full-height turnstile versions are available for higher user traffic locations also allowing optimization of occupied space and investment costs.
It also allows: Proximity Card Reading (EM 125k, MIFARE and HID Technology), PIN Code and Biometrics.
IDONIC TORN M105
Full-height turnstile
Access Control with Full-height turnstiles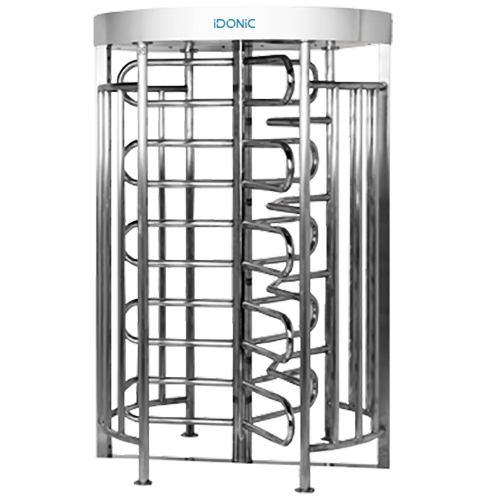 site controlo de acessos EN
More Models and Hardware Information on Our Website:
MORE INFORMATION
Fields marked with * are mandatory.