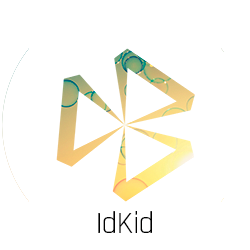 Billing, Management and Access
United to Protect Children and Your Business
Thinking about the most precious asset that is, children, and in the institutions that care for them, we created IdKid – Integrated Solution for Billing, Teaching Management and Security Access Control.

Practical and Simple Software
Security at Maximum Level
IdKid is software that can work in isolation (to perform the Billing and Management of Day Nurseries, Colleges, Kindergartens, ATL and Schools), or in integration with the Security Access Control hardware, to authenticate the entry and exit of children, their parents/guardians and employees. With a new interface image, now more contemporary, practical and user-friendly, this system becomes the best tool for managing educational spaces of any size.
IdKid Plataforma Idonicsys EN

New Platform
IDONIC

SYS
A Powerful Software Platform for Your Applications
A platform that brings together the most diverse solutions in the areas of management, control and security.

New Tools
New analysis of results. New statistical analysis. Automatic Updates. Automatic licensing.

A Practical and Affordable Structure
Management of different areas of the company on the same platform.
Server-based platform and networking.

Greater Integration
Integration with different security access control, time and attendance terminals, services, etc. Integration with various applications to improve your management processes.

Full and Certified Billing
Certified Billing and Teaching Management Software, in accordance with current legislation.
Ensino Principais Características EN
Know How and Where Children Are
Fast Control and Coordination of Functions
With a networked system, it is easy to monitor the entry and exit into/from the school, college, day nursery, kindergarten or other space that has the daily presence of children.
Access can now be restricted to authorized persons by blocking it from strangers in order to improve the well-being of the little ones. It is easier to establish rules of access and to make sure that children are handed over to their parents/guardians.


Kindergarten Control
The safety of chikdren is achieved through security systems that ensure that strangers cannot enter the premises without an authorized person and that children are never handed over to strangers or unauthorized persons.

School control
The electronic card implemented in educational institutions helps to control the access and attendance of students and educators, allowing for stricter monitoring of access to the school premises and the prevention of situations that jeopardize the safety of children.

Detailed information
Sending information associated with the status of the children through SMS or e-mails, presentation of alert messages to the specific needs of the children helps control the children and generates greater confidence in the institutions.
Full and Integrated Functions
Billing, Class Assessments, Activity Plan, Schedules, Documentation and Security Access Control are now easy to manage.
Ensino Características 01 EN
More Than Controlling, Organizing
Simple Management, Effective Control
All the essential functions for a full control of the teaching space, are the result of a quality service that best suits you and your educational facility.
For a better time management, the issue of receipts, class assessments, activity plan, schedules, and other documentation are now easy to solve with IdKid Software.
Ensino Características 02 EN
---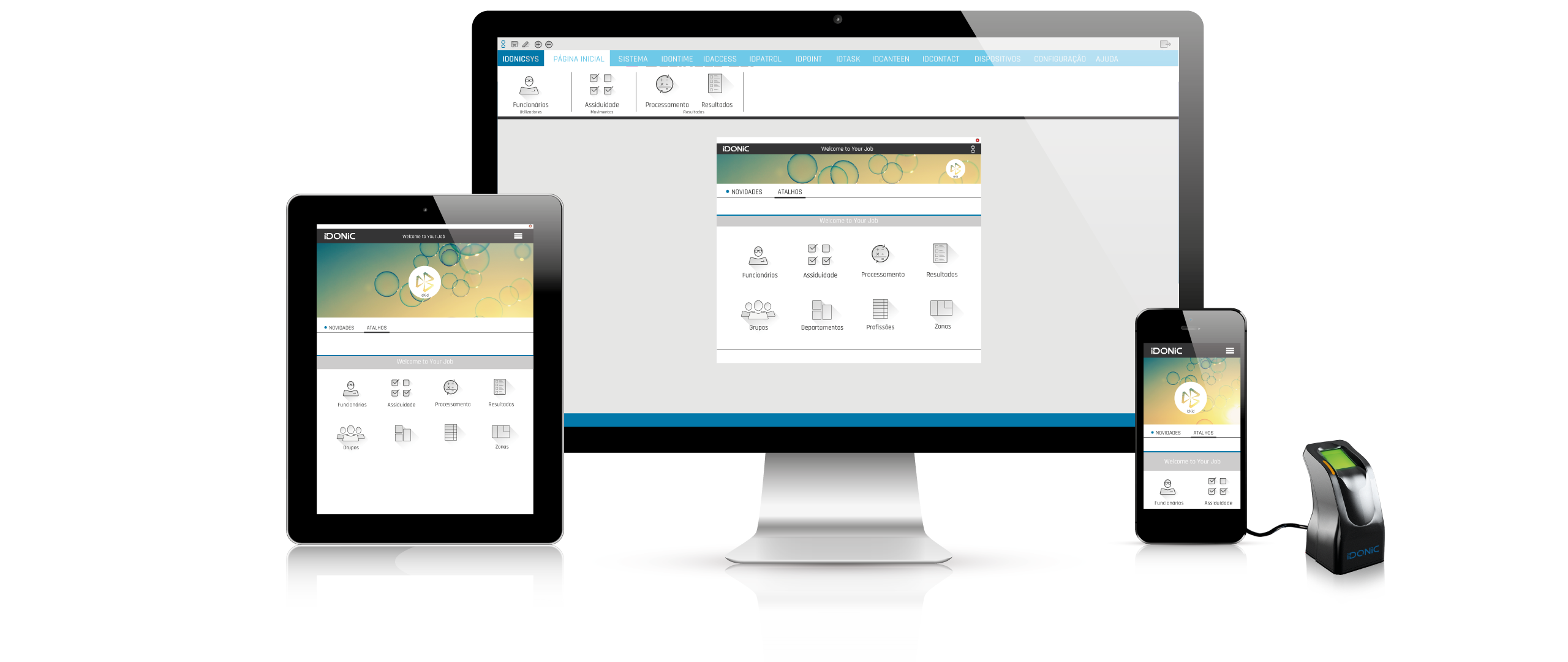 IdKid – Billing, Management and Access
The IdKid solution stands out from other solutions on the market by its ability to adapt itself to the needs of the customer and by merging in a single application all the major software features required in Kindergartens, Colleges, Day Nurseries, ATL and Schools. Although in its full version, IdKid allows you to perform all billing, management and security actions in an educational institution, the customer may choose to purchase only part of the system, with the guarantee that if your business grows the IdKid solution will accompany it. By being modular, it is possible to make a progressive investment, according to your needs and current financial availability.
With the IdKid Solution, you will guarantee:

Certified Software
In Ordinance no. 22-A/2012 of January 24, 2012, the Tax and Customs Authority redefined the requirements to implement control and auditing mechanisms in billing programs, reinforcing the fight against fraud and tax evasion, facilitating data crossing.

Planning and Evaluating
From IdKid you can carry out all the planning of teaching activities and assessment of students. Control all documentation, identification cards of children, parents/guardians and staff, stock, meals, medical records and internal alerts or for those in charge of their education.

Controlling Access
Keep unwanted people out of your facility and create access rules for parents/guardians and employees. Control delays in the delivery and collection of the children and manage the overstays. Keep an up-to-date record of all entries and exits.
Ensino Características 03 EN
---
Management of External People
Prevent unwanted access
A system such as IdKid allows for combining into a single application of a specific security access control for educational institutions such as Kindergartens, Colleges, Day Nurseries, ATL and Schools, where entry at the institution and delivery of children by parents/guardians is always associated with biometric validation or card reading. With measures and rules in place, it is entirely reliable that children are handed over to their parents/guardians and do not leave the premises without authorization.
Ensino Software Hardware EN
---
Software and Hardware Cooperation
When we approach the topic of security in children's spaces, we demand more efforts.
There are several options to respond to each situation. Enable security access control and time and attendance, all in the same solution, aiming to supervise the space that requires total confidence and flexibility of functions.
More in a Single Terminal
Fingerprint, Pin Code and Card
This is a all in one terminal! State-of-the-art technology, authentication by biometrics and RFID, camera that records the moment of access, with possibility of connection via Wi-Fi or even GPRS for communication and information synch with the Time and Attendance Management or Security Access Control software.
It is a reliable choice, fast and able to respond to the most diverse operating situations.
IDONIC Chronos 201
Terminal Bio
Time and attendance control and access by biometrics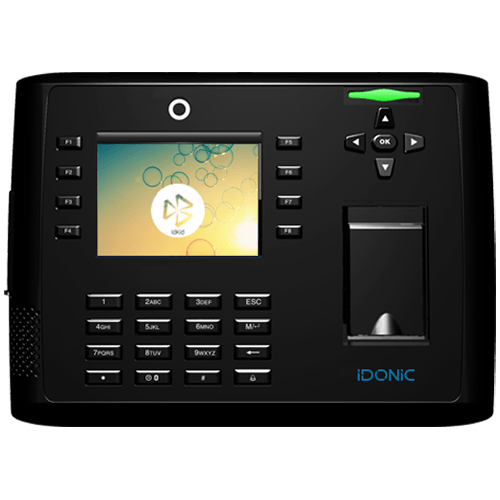 An Unbreakable Control
Fingerprint and RFID Card
Biometric and proximity card terminal, anti-vandalism and with IP54, it ensures the security you need to control outdoor access.
If you are looking for a modern, compact and space-saving terminal, this is the ideal equipment. With fingerprint or RFID card reading, it is also possible to integrate with other models for network installation.
IDONIC Aeon 210
Terminal Bio
Acces Control by Biometrics and Proximity Card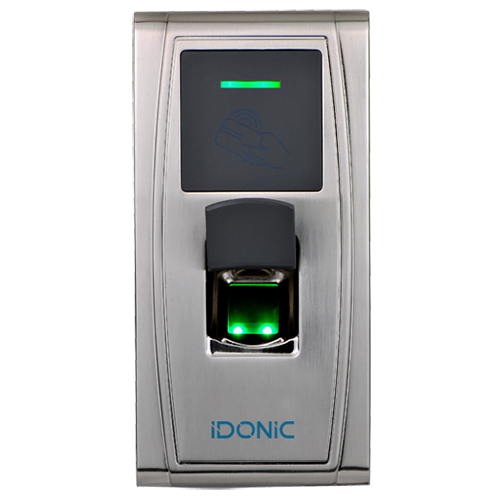 Small in Size, Huge in Proficiency
Fingerprint and PIN Code
Security access control terminal for fingerprint reading and PIN code. It controls those who enter your premises, simply and economically, always ensuring total security. Due to its small size, it is a terminal that adapts to any space of the institution, although due to the characteristics of its anti-vandalism equipment and IP65, is especially useful for outdoor operation, being resistant to adverse weather conditions and harsh environments.
IDONIC AEON 226
Terminal Bio
Acces Control by Biometrics and PIN Code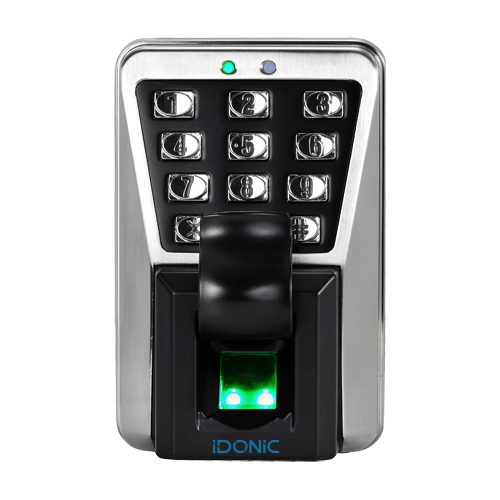 Modern and Remarkable
Proximity Card
This innovative security access control terminal, with a slim and elegant design, integrates an RFID reader for verification of proximity cards.
Supports wiegand input and output data port, offering the flexibility to be used in connection with an external reader. It can be integrated with the IdKid Access control software for the security access management of educational institutions.
IDONIC Aeon 109
Terminal Prox
RFID Card Acces Control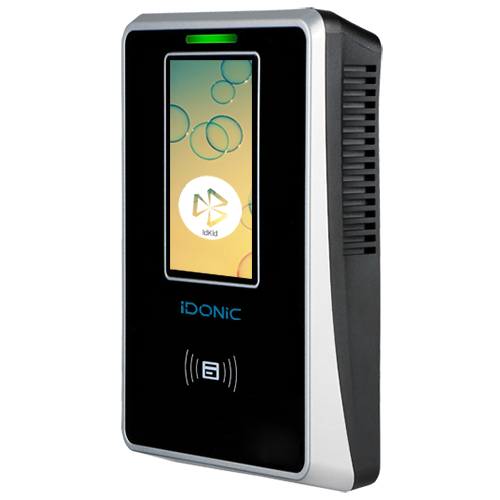 One System, Multiple Applications
Fingerprint and Proximity Card.
These Security Access Controllers are designed to allow multiple doors to be opened. With the possibility of connecting to biometric readers or card readers, they reduce your investment considerably when the number of controlled doors is extended. There are models for controlling simultaneous access to 1, 2 or 4 doors. These access controllers can also control additional interfaces such as lights, alarms and intrusion detection panels, or be integrated with locking devices such as turnstiles, full-height turnstiles, garage doors, car park barriers, electric latches or electromagnetic locks.
IDONIC Aeon
Security Access Control Solution
Security Access Control by Biometrics and Proximity Card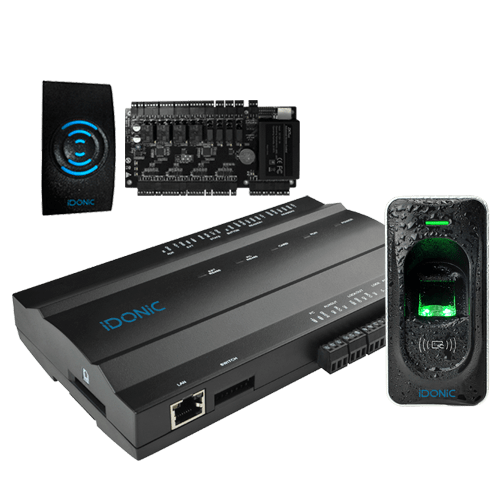 An ID card
Customized Cards
All educational institutions should ensure simple ways to identify users in their facilities. Even if there is a security access control system to manage the entry and exit of children, parents/guardians and staff, the use of customized cards, including the institution's logo, name, number, etc. facilitates the visual identification of users. Identification cards may further include readout technology, either by radio frequency (RFID), better known as proximity cards, bar code or magnetic stripe cards. The use of technology is usually associated with security access control and time and attendance management of employees, teachers and students.
IDONIC Card
Customized ID Cards
Security Access and Time and Attendance Control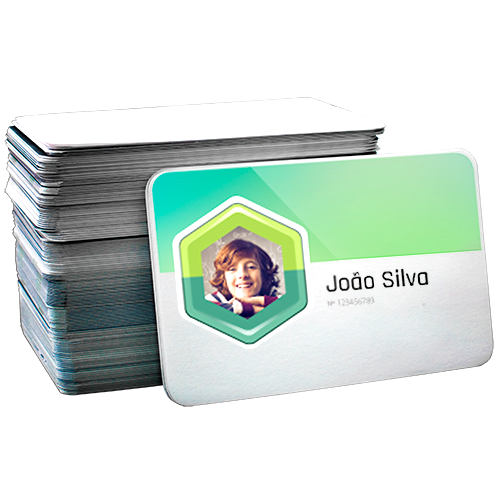 The most effective control at your disposal
Security Access Control with Turnstiles
If security access control takes priority in your options, if you want to ensure that you do not have unaccounted exits or entries in your educational facility, then the solution is in the installation of turnstiles. This robust equipment will put an end to attempts to enter or escape by other users, through doors that are opened. In the case of students, escapes from the educational institution can be problematic as well as the entry of unwanted people, with implications in mandatory security levels in an area as important as education. We have several models of turnstiles and full-height turnstiles, adaptable according to your needs and investment, being able to be integrated with access control electronics with the use of card reading or biometrics.
IDONIC TORN T102
Turnstiles
Security Access Control with Tripod Turnstiles
MORE INFORMATION
Fields marked with * are mandatory.