Assiduidade Apresentação EN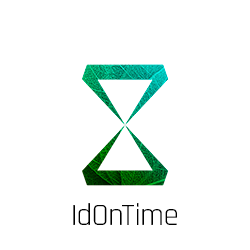 Time and Attendance Control
Because Time is the Essence
Efficient time management (human capital), real-time monitoring of time tracking activity of all employees in your company

New Software Design
Simplicity at the Reach of a Click
The new interface helps make it easier to access the information you need to control employee attendance. With better structured sections and a more organized information layout, it makes IdOnTime the ideal time and attendance management software for anyone who wants to better control working times.
IdOnTime Plataforma Idonicsys EN

New Platform
IDONIC

SYS
A Powerful Software Platform for Your Applications
A platform that brings together the most diverse solutions in the areas of management, control and security.

New Tools
New analysis of results. New statistical analysis. Automatic Updates. Automatic licensing

A Practical and Affordable Structure
Management of different areas of the company on the same platform. Server-based and networking.

Greater Integration
Wide integration with different terminals. Integration with the main ERP.

Assiduidade Destaque 01 EN
Biometrics
Convenient – Eliminates the need for cards and user code
Safe – Personal data is encrypted and made inaccessible
Reliable – It is difficult to refute transactions based on biometric data
Practical – Makes the recording process fast and comfortable
Assiduidade Principais Características EN
Security and Identity
Nothing Identifies Us Better Than Our Biometrics
The use of the IdOnTime application in conjunction with IDONIC CHRONOS terminals allows you to store time and attendance and punctuality records as well as controlling and analyzing the information required for cases of absenteeism. Biometrics is the most innovative and easy-to-operate solution through fingerprint or facial recognition. Pin code and RFID technology are other options for ensuring a complete reliable solution.
Biometric identification and authentication is the best solution to combat fraud.

Cost reduction
Wage processing becomes simpler. You can access accurate and reliable employee entry and exit data and reduce administrative costs.

Data authenticity
All the information, detailed reports are now managed by you. Plan and control the time of your organization's activity: days off, holidays, overtime, etc.

Productivity
Reducing delays will increase the performance of your employees as well. Uptime is best managed, further improving the organization's productivity.
Assiduidade Destaque 02 EN
Integration with Wage Software
Possible Integration with the Main ERPs of the Market:
PRIMAVERA
PHC
SAGE
ETICADATA
SAP
ARTSOFT
NAVISION
AIRC
MEDIDATA
Among Others…
Assiduidade Características 01 EN
Strategies That Meet All Requirements
The employer must keep track of working times, including workers who are exempt from normal working hours and allow these data to be easily accessible.
Organizations of all sizes, whether private or governmental, use time and attendance control systems to record when employees begin and end their work, as well as the department where the service is performed. The time and attendance control terminals are an added value to facilitate this process, further contributing to compliance with Article 202 of the Labour Code.
Assiduidade Características 02 EN
---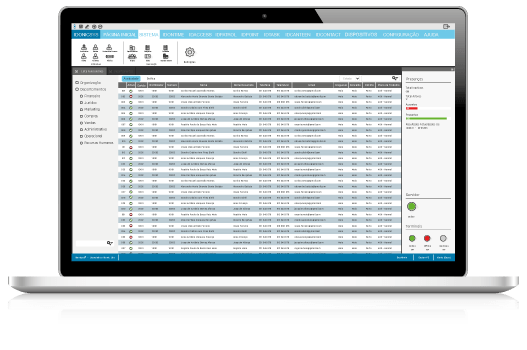 Tailor Made Solutions
Each Organization is unique, hence it requires different and individual solutions. We work on the ideal response to every need, more or less specific, of the organization.

Hour Bank
The Hour Bank is an important work time management tool, since it allows companies to have workers in periods of greater production need and to grant rest periods in the less productive phases.

Biometrics – The non-transferable Security
Solve the effective management of individual or collective work time with the confidence that biometrics provides. There are different solutions for each organization, but all look for ease of action, personal security and veracity of the data obtained.

Automated Systems
The presence of timesheet readers to control employee entry and exit movements associated with IdOntime attendance control software enables effective automation of the work time management process at the institution.
Assiduidade Características 03 EN
---
Because time is money
Managing employee time and attendance and punctuality is a basic tenet of effective human resources and financial management. In an increasingly competitive economy, where labour costs are a key factor, not optimizing employee working times, allowing delays or early exit, rest periods greater than the allowed, are examples of waste of time, which together represent lost useful working time.
The reduction in the rate of utilization of working time may lead to hiring more than necessary workers, overtime pay, subcontracting of external services, work underload for the most effective employees and loss of competitiveness of the institution.
The IdOnTime Solution Allows for:
TIME AND ATTENDANCE
Possibility to monitor online all those present and absent from your premises.
SCHEDULES
Creation of rigid, flexible hours, time off, shift work.
HOUR BANK
Accounting of hours to credit and debit, with management of balances, allowing a flexibilization of the work performance.
ACCESS
Possibility to control physical access to the premises, with interconnection to time and attendance control.
JUSTIFIED ABSENCES
Classification and pre-justification of absences per employee, external services, training, etc.
WAGE INTEGRATION
Export or Integration with the main human resources software in the market.
ALERTS
Issuance of alerts to managers about critical points or need for intervention.
CLOUD MANAGEMENT
Available web version of the IdOnTime application for managers, and employees with the possibility of defining different access profiles, according to the responsibilities and needs of the stakeholders.
SHIFTS
Possibility of launching and managing work shifts, crew changes and allocated elements.
HOLIDAYS
Entry and annual holiday control per employee.
Assiduidade Software Hardware EN
---
More Simple, More Logical, Better Software and Hardware.
A Time Attendance Control solution of excellence, requires top-end software without ever failing to use modern, robust and reliable hardware. Smart menu settings, greater flexibility, digital display, speed of terminal validation, large capacity of records, are some of the features present in the wide range of hardware for time and attendance control.
Assiduidade Hardware 01 EN
An Expert in Facial Recognition
Registration by Facial Recognition and Card
With a high resolution camera and a scanning time of less than 1 second, this time and attendance control equipment makes it possible to identify employees, users and visitors in a fast and above all reliable way.
Idonic Chronos 304
Terminal Bio Face
Biometric Attendance Control
Assiduidade Hardware 02 EN
Simply Revolutionary
Fingerprint and Card
If you like innovation and style, this time and attendance management hardware fits your image. With a revolutionary design, this biometric fingerprint reader stands out from the others not only for the features, but above all the 7″ touchscreen display, USB, Wi-Fi and TCP/IP communication for data transfer from easy and reliable way.
IDONIC Chronos 237
Bio Terminal
Biometric Attendance Control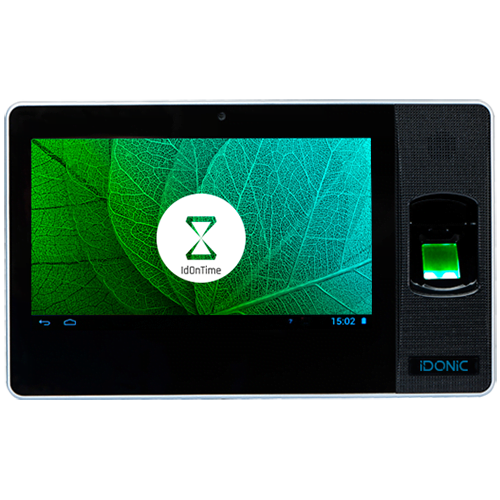 Assiduidade Hardware 03 EN
Suitable for all situations
Registration by Fingerprint, Card and Pin Code
Fast to install and even simpler to handle, this is a timesheet reader that is consistently the number 1 choice of consumers. With three types of registration and a compact and modern design, time and attendance management and control has now become simpler to achieve.
IDONIC Chronos 205
Bio Terminal
Biometric Attendance Control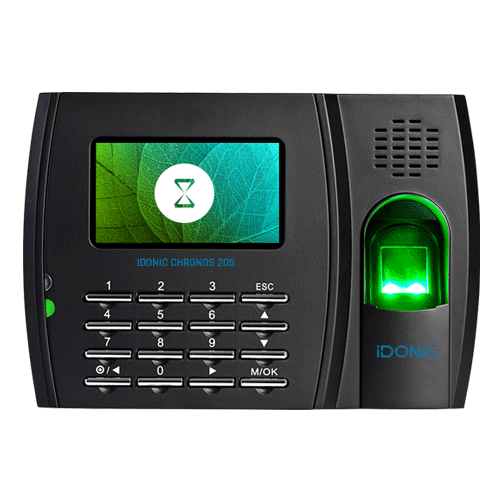 Assiduidade Hardware 04 EN
All Possibilities in a Terminal
Registration by Fingerprint, Card and Pin Code
Multibiometrics is a new way of saying security, and a fingerprint and facial recognition terminal is the way to get it. With modern and current design, this equipment is one of the most complete models in the market. Equipped with the latest Fingerprint Identification and Fingerprint Algorithm, this aligns accuracy to speed of registrations.
IDONIC Chronos 403
MultiBio Terminal
Biometric Attendance Control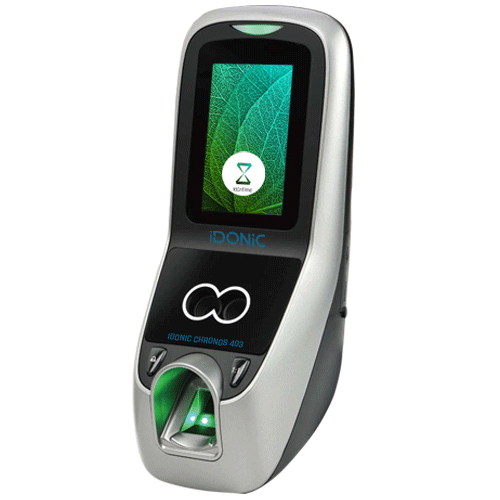 Assiduidade Hardware 05 EN
Adaptable to your Outdoor Activity
Fingerprint and Card
It is a portable terminal, designed for activities that require the movement of the equipment.
With USB port for downloading timesheets, standalone operating capability, allows for authentication through fingerprint, RFID card or code. It should be noted that, in the case of a portable timesheet reader, it has a practical box for transporting it and is resistant to falls, a frequent situation when it comes to constantly moving equipment and aggressive environments.
IDONIC Chronos 524
Bio Terminal
Time and Attendance Control by Mobile Fingerprint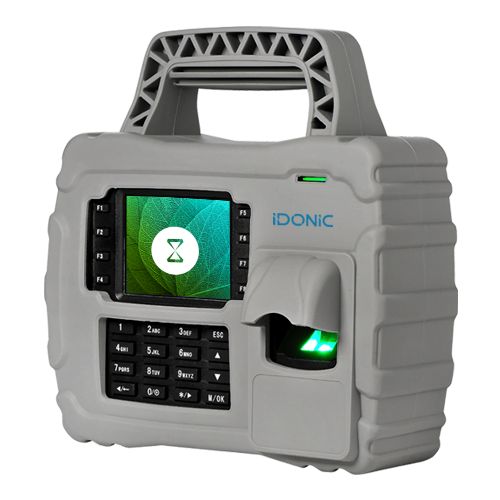 Assiduidade Hardware 06 EN
Resistance that does not wither
Guard Patrol Memory Sticko
Constructed with materials of excellence, this is a round stick that prevents any unforeseen event. Due to its resistant, waterproof structure and high capacity, low power battery, this is a real ally for professionals who perform guard patrol functions.
IDONIC PATROL 203
Prox Terminal
Time and Attendance Control and Guard Patrol by Proximity Tags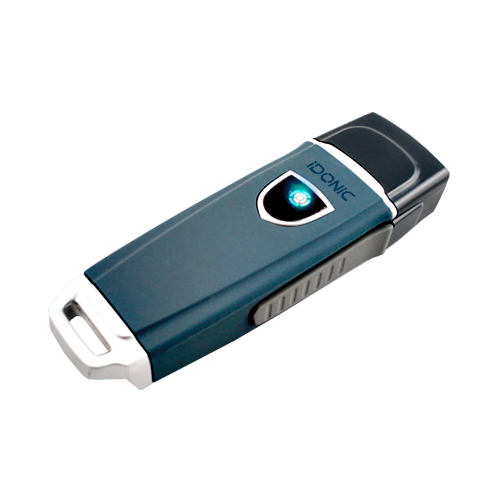 site relógios de ponto EN
More Models and Hardware Information on Our Website:
MORE INFORMATION
Fields marked with * are mandatory.